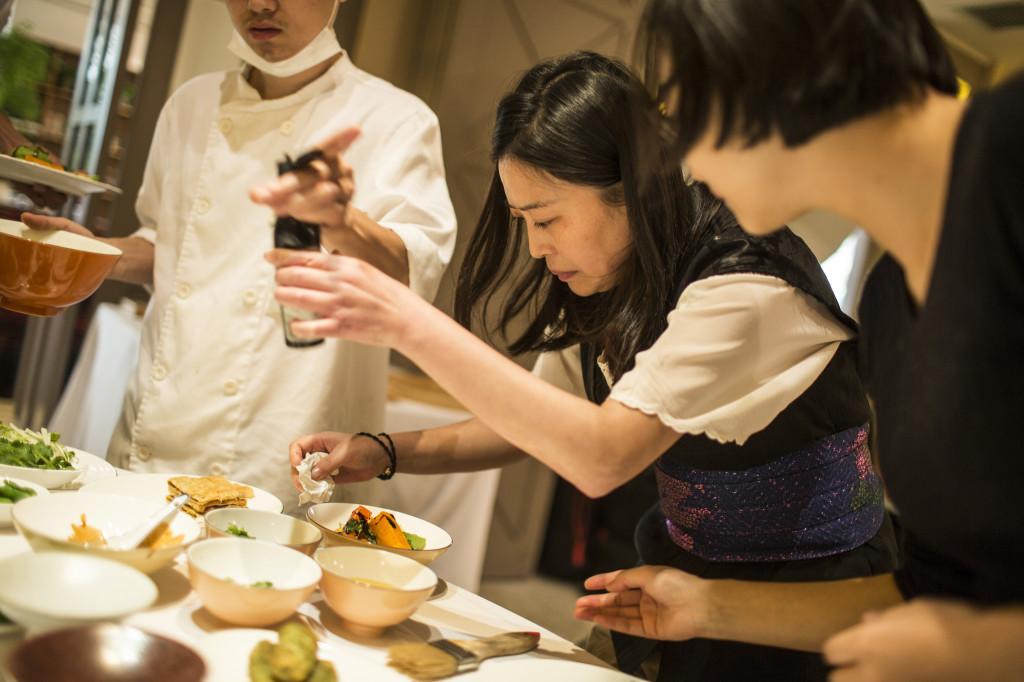 Only open for 3 months, Hao Noodle has received rave reviews from important local press including Eater, New Yorker and the New York Times. It's also been flooded with appreciation from multiple backgrounds including David Barber and the grandson of I. M. Pei. A common theme? "I've never seen a Chinese restaurant like this in New York City". There's no giant Buddha statue, there's no rigid, white cloth formality, and it doesn't cost $$$$. Rather, there is such an elegant balance between the food, the decor and the spirit of hospitality that you begin to wonder who's behind it all.
This is another creation of Madame Zhu.
Known as Julia among her American friends, the first impressions she gives off are soft and thoughtful. So I was a bit surprised to learn that she owns and operates an enterprise of almost a thousand staff in China, spread out across major cities such as Shanghai and Beijing. Madame Zhu's Kitchen (Chinese name Han She 漢舍) has been named one of the Top 50 restaurants in China – and in a country of vast food cultures, geography and quantities of restaurants vying for such a position, this is no small achievement.
After passing some time with Julia watching her interactions and demeanor with staff it becomes obvious that she herself is the special sauce. She has a significant background in the art world and her aesthetics carry over to a wide range of her life and business operations. From fine art, to literature, gardening, fine wine and interior design, she's not only well-versed, but very hands-on. An installation artist at heart, restaurants have provided her with a public means to infuse all the things she loves and she does so with intentional subtlety.
She's also a talented cook and host. Pointing to her childhood in Chongqing and her father's love of cooking, she was guided by a nurturing hand through the rich culture of Sichuan food. Later on she began studying ancient recipes and visiting Michelin rated restaurants around the world. It's a unique upbringing that helps explain her work. Today, at Madame Zhu's Kitchen, she not only leads chefs who are classically trained in Shanghai, Guangdong and Sichuan respectively; every October she leads them through an intensive collaborative drafting of the menu for the year ahead.
Besides food, she also designs all of her restaurants: each of the spaces breathe in their own way, but somehow carry similar DNA. "Every space has its unique light and flow. Out of that I want to create something like a living room." She's also crazy about plants and quietly chuckles that she may have been a gardener in previous life.
But inevitably, the restaurant is a day-to-day business. It's one thing to create, it's another to operate and to cashflow, particularly when it's not a chain. As a successful restaurateur she's cultivated a solid core team to ensure that every detail of the composition is executed in a specific way – the color of a flower, the flow of a supply chain, the taste of a particular sauce…
But why New York? Julia is seen as a taste maker in China, which she says can feel like a burden sometimes. After living briefly in New York she found a refreshing sense of freedom and a healthy dose of nostalgia for a China that only distance can bring. She suggests these are spaces where an artist's urge surface. And, as usual, this time is different. Uncertain whether her extensive menu from China would make sense to a city with a foreign "chinese" palate, she flew in a small crew to help her create a new composition: Hao Noodle & Tea by Madame Zhu's Kitchen. Other than a few rare spices and secret recipes, each dish is sourced locally and the result of many months of fine-tuning. Sitting at the communal table, American and Chinese friends quietly and simultaneously nod, recognizing different pathways. Sophisticated textures and deep flavors brought about by seriously trained techniques.
One thing remains clear: Madam Zhu has continually brought a new energy and higher standards to Chinese restaurant scenes. With a background amongst affluent Chinese art and business circles, Julia continues to evolve amongst new friends and – like a perfect host – offers a subtle, intentional living room of food and community.
It would appear this is just the start of something.
***
Hao Noodle & Tea by Madame Zhu's Kitchen
401 6th Avenue, New York
212.633.8900
Food reviews:
New York Times
New Yorker
Grub Street
Eater