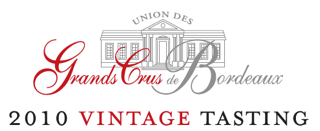 "2010 was a very dry year, particular in the 3 months of summer, we only got 1/3 of regular rainfall. As a result, the berry is much smaller in size, with more focused acidity, sugar (alcohol), and higher skin-juice ratio. 2010 wine has great aging potential."             ~ Christian Moueix, Chateau Petrus
In Burgundy, they like to talk about terroir. In Bordeaux, they like to talk about style. Whereas Burgundy has a single varietal to work from (Pinot Noir for red, Chardonnay for white), Bordeaux uses multiple varietals in their blends. Both rely on soil, weather, fruit and winemakers, but each assembles them in different ways to reflect their regional styles.
Most of the winemakers that I met at the Union des Grands Crus de Bordeaux Tasting in New York agreed that 2010 was an excellent year. When comparing 2009 and 2010 from the same chateau, 2009 has more exuberant fruit, velvety texture and, so far, seems very approachable; whereas 2010 may also offer nice fruit, it seems more classic*, with great structure and balance. (*note: 'classic' is a wine term often used to suggest a definitive sense of a region or a style; suggesting a wine that is exemplary, a model of the form, even iconic.)
A good wine starts from the vineyard, but by no means concludes in vineyard. A dry 2010 summer caused evaporation of the water in the berries, so the concentration of sugar and acidity is higher. The resulting smaller berries also constitute higher skin to juice ratio (skin is the major source of both flavor compounds, as well as tannins). While this is a great opportunity and generally what a winemaker could hope for, it also presents an exciting challenge: to find the greatest balance between high sugar (alcohol), high acidity and high tannins. Therefore, from fermentation, through aging strategy, to varietal blending, many winemakers took a long hard pause at each step, making sure to encourage a balance between those three components rather than underplay the opportunity. So when winemakers comment that 2010 may be a classic vintage, it might also mean that 2010 truly showcases an individual Chateau's 'classic' style. These are all good things to consider.
So what about the value? The prices for 2009 had been driven high because of the media attention and expected high demand. So far, the market has proven to be rather sensible, which helps keep the 2010 pricing in check. If you're thinking about cellaring some 'classic', age-worthy 2010 Bordeaux, buying future now is a good idea.
Tasting these powerful, compelling young Bordeaux for hours is never easy. As it turned out, 2010 has higher amounts of Cabernet Sauvignon in their blends compared to the previous year, which gives even more power and structure to the wine. From time to time, I had to take breaks and reset my palate. I started with the more delicate style from the left bank like Margaux, St Julien and so on, then moved on to the right bank. Personally, I found the 2010 vintage to be surprisingly approachable already, and I enjoy the nuances and beautiful balance most chateau already have to offer. We'll revisit this vintage again to track what a few more years will bring. In the interim, here are some of the wines of admiring styles that I enjoy very much:
MARGAUX
Chateau Du Tertre
Nose: very aromatic, perfumy and lovely fruit
Palate: exuberant fruit yet elegantly composed, wrapped in fine dusty tannin
Chateau Durfort-Vivens
Nose: a mysterious combination of cigar and pure fruit
Palate: alluringly fleshy, slightly sweet and charming; tannins are so delicate and hide behind that it ends on a sweet note, rather than a frame
Chateau Malescot
Nose: slightly cool (menthol) with deep sweet fruit aroma with a woody edge
Palate: vivid progression of big fruit, elegant poise, fine tannin and long finish, one of my favorite
Chateau Marquis De Terme
Nose: More masculine, with some wood and earthy element
Palate: good acidity, rich and complexed sweet fruit, followed by big dusty tannin
Cheateau Prieure-Lichine
Nose: masculine, with a cigar note
Palate: fleshy, rich fruit, schist and floral with a deep sweetness, big frame; one of the most powerful from Margaux
Chateau Rauzan-Segla
Nose: generous and sweet
Palate: fleshy, exotically floral, very charming
SAINT-JULIEN
Chateau Gruaud Larose
Nose: savory, gamey, with sour cherry far behind
Palate: exuberant but complex, layered fruit with a little bit white pepper lingers
Chateau Langoa Barton
Nose: slight smoky and gamey
Palate: classic cassis (or red bean paste for Chinese), slightly gamey with fleshy texture and nice tannin
Chateau Leoville Barton
Nose: aromatic fruit and cool air
Palate: Nice progression of acidity, savory and silky wood, elegant fruit, complex and very balanced
Chateau Leoville Poyferre
Nose: very aromatic, deep game, earth, chocolate with rich fruit behind; complex!
Palate: surprisingly sweet (compared to nose) with elegant fruit, long finish with a cacao note; one of my favorite
PAUILLAC
Chateau d'Armailhac
Nose: fruit and an intriguing barnyard air
Palate: fleshy texture with juicy fruit, wrapped with savory tannin and a bit white pepper note
Chateau Grand-Puy Ducasse
Nose: hint of cigar leafs, with sweet fruit and cacao
Palate: complex mix of game and exotic fruit shoot through, slightly charming bitter end
Chateau Lynch Bages
Nose: deeply sweet and very elegant, with a bit cigar note unfolds
Palate: great combination of fruit, cigar, fleshy and tannin all hit the palate altogether; one of my favorite
Chateau Pichon-Longueville
Nose: complex savory and fruity notes knitted well together
Palate: rich but very balanced, makes it approachable
SAINT-ESTEPHE
Chateau Ormes De Pez
Nose: slightly rustic but charming
Palate: sweet and fruity with a bit umami, fleshy texture wrapped in big tannin in the end
PESSAC-LEOGNAN
Domaine De Chevalier
Nose: rich red bean paste (cassis) mixed with rock
Palate: lovely red fruit with red bean paste
Chateau Haut Bailly
Nose: cool (menthol), very focused fruit, deep perfume with a bit black pepper smokiness
Palate: elegant, pure and deep fruit with a slightly salty minerality
Chateau Malartic Lagraviere
Nose: sweet fruit blended with pronounced cigar leafs, slightly smoky and intriguing
Palate: sweet red bean paste, velvety, deep and exotic, altogether with a bit savory note
Chateau Smith Haut Lafitte (red)
Nose: great mix of earth, sweet fruit, white pepper, wood and intriguing umami, very aromatic
Palate: reflecting the nose very elegantly, with silky tannin and a hint of bitter cacao end
Chateau Smith Haut Lafitte (white)
Nose: grass, melon, very mineral and powerful
Palate: hint of sweetness, melon, smoky and mineral; amazing
Chateau Pape Clement (white)
Nose: charming bee wax and smokiness
Palate: perfect balance of sweet melon, green grass and white pepper, mineral and complex, with long, refreshingly bitter finish
(I think my palate got tired when I finally reached right bank Bordeaux at the tasting – skipping the notes here to be fair..)